8 Online Services To Sell Your Digital Products Easily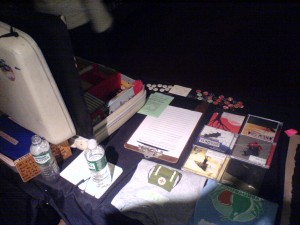 2 Flares
Twitter
0
Facebook
0
Google+
0
Pin It Share
2
LinkedIn
0
StumbleUpon
0
2 Flares
×
Selling merchandise is a major source of income for all working musicians. Since most music purchases these days are in digital format rather than the old school physical CDs, tapes, and so on, having a good way to take orders for and distribute digital goods is a necessity. Unfortunately, many of the major retailers take a significant chunk of your change when you make a sale. Depending on all the costs involved, you may not be making as much as you would hope to in the end. In most of these cases you also have more competition to deal with. Even if someone comes to check out your music, they will tend to be marketed to for other "related" artists. That could mean losing a potential sale if they decide to purchase music from another artists. That is why standalone digital sales services are a great thing for the independent musician. There are many of them to choose from, and you avoid many of the hassles of dealing with the major retailers.
Gumroad is a service I've already mentioned here before. So I put it first since it is still the one I feel is the best option for us musicians. There are many aspects of Gumroad that make it a great choice for your digital sales platform. For starters you aren't paying out high commissions to the service like you would with Apple, Amazon, and others. Secondly, Gumroad works directly with the credit card companies so you bypass additional fees such as PayPal's surcharge of 2.9%. So your cost per transaction ends up at a flat %5 + $0.25 per sale. That's a far cry lower than Amazon and Apple's 30%. Gumroad also simplifies the whole process for both you and your fans. It is easy to sign up and get your merch out there and available for the fans to buy. Your fans simply have to enter an email address when they purchase. No account signups or redirects to another site. No entering tons of information not related to the actual purchase. Just enter their email and buy.
Gumroad will also work for selling physical products as well.
Taking a similar approach to Gumroad, Intubus works by embedded widgets. You create widgets for your products which you can embed on pretty much any website you want. They take a flat rate of 5% commission on each sale with no monthly fee. One aspect of the widgets is that content from other Intubus users will appear in them on your sites. This can be both good and bad. For one you will be advertising other people's products without receiving any commission on those sales. At the same time though, your products will be showing up in other users' widgets meaning a wider range of exposure and you get your money from those sales without any commission beyond the flat %5 being taken. So if you have an issue with promoting other people's goods then you may want to pass. If you favor the group supported promotion element, then Intubus may just work for you.
FetchApp was originally just an app for Shopify but is now standalone. However, because of where it started, FetchApp offers easy integration with Shopify stores. The service also has an API allowing for integration into other websites and services. With FetchApp you get unlimited bandwidth but must pay for how much file storage you need. The Free plan only gets you a meager 1MB of storage. So if you decide to go with this service you'll be looking at getting at least the 1GB plan for $10/month. Of course, if you do plan to integrate this with Shopify, you'll have to play your monthly service fee with them in addition. Since you are paying this monthly fee, FetchApp takes absolutely no commission on your sales. So depending on how much you expect to sell, FetchApp may be a big money saver.
PayLoadz positions themselves on offering a secure ecommerce service for anyone to sell their digital goods through. They focus on the security of the transfers and hosted files as their main selling point and utilize Amazon's S3 platform for the file hosting. Products are shared by copying and pasting links or HTML code for buttons on other sites. They tout that this allows their services compatible across a wide range of platforms. In addition to this, they offer a turn-key affiliate system to let you offer incentive to others to promote your products for you in exchange for a small percentage of the sale value. On their site they claim that their sellers see an average of 1,000% increase in sales volume thanks to the efforts of the seller and their platform. Depending on your sales volume, there are a few account options to choose from. The Free account costs nothing per month but comes with a 20% transaction fee. Now that's much heftier than some of the other services listed in this article, but you may wish to consider the other benefits the service offers before you think that's too high. The paid account comes in at $14.95/month with a reduced 4.9% + $0.49 per transaction. In the case the overall order is less than $2.00, they only charge 4.9% + $0.05 per transaction.
Stepping up to the plate, Sellfy is very similar in ways to Intubus and Gumroad. Featuring %5 flat transaction rate, no monthly fee, unlimited storage and bandwidth, Sellfy doesn't stand out compared to some of the others in these regards. The aspect of Sellfy that sets it apart is you can offer discounts to people who share your products on Facebook and Twitter. Adding to that, you can track these discounts and see if they are helping your sales or not.
Simple Goods is another contender aimed at selling digital goods with little fuss. However compared to some of the other options, they may be a bit pricey. The basic plan is $29/month and only provides you allowance for five products plus MailChimp integration. With the premium plan at $59/month, you get a 25-product allowance, discount codes, instant payment notifications, tax invoices, and more. Both plans also include a 2.9% + $0.30 per sale transaction fee. You have no limit on your total file storage and your individual files can be up to 4GB each. That's where Simple Goods starts to set themselves apart from the rest. So if you are planning on selling large video downloads, Simple Goods may be a good option to consider.
Pulley is another low-cost option that balances ease of use with features on its varying plans. Every plan gets unlimited bandwidth and no order limit, but the plans scale in how many products you can list and how much total storage you get. Ranging from 25 products at 100MB limit for $6/month to 500 products at 2.5GB limit for $49/month, you have a good set of options to choose from. They offer a 14-day free trial and you are able to cancel at anytime. It is strictly a pay-as-you-go service so if you don't like contracts then Pulley may appeal to you. Unlike some of the other services, Pulley doesn't also charge a transaction fee on top of the monthly charge. They still have to apply the normal PayPal fees however.
Last but not least is Digital Goods Store. While they sport many of the features other services offer, they also have a few standout differences. To start with, there is no monthly fee. They have a standard 5% transaction fee for free accounts. But if you upgrade to a Pro account for $39.99/month, they do away with the 5% transaction fee unlike some of the other services. With Digital Goods Store, you can upload and sell as many digital products as you like. They offer easy integration within your own website as well as being able to share links via Facebook or Twitter. Don't have any of those? That's fine because they also give you a landing page on their site. One of the most outstanding features they offer is the Download Protection. They state they have features in place to help make sure your products are not shared illegally will seek out customers who try sharing your products illegally while also notifying you of the situation. At the same time, Digital Goods Store also allows you to offer affiliate opportunities and track how well your affiliates perform.
James Higgins (295 Posts)
Professional guitarist and instructor based in Alabama; performance, songwriting, and recording. Atlanta Institute of Music graduate. Part-time blogger.