How To Actually Make A Living As a Musician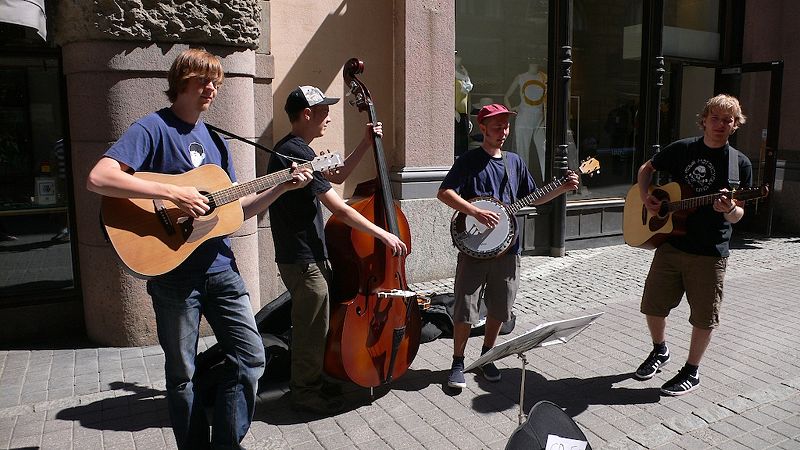 Making money is a major focal point of most musicians. After all, what could be better than getting paid well for something you love to do? Unfortunately, too many musicians see it as a "get rich" or "be broke" set of choices. Unless you make it big, you won't ever make any real money. Well I'm happy so say that is completely wrong. There are plenty of ways to make a decent living solely as a musician. Just like with any job, the more you work the more you tend to get paid. So what are a few ways for musicians to build a livable income?
Performing A Lot
Performing is going one of the main ways nearly all musicians make money. Even the big stars make a major portion of their income from doing tours. Don't think that making good money from performing is limited to big name artists or long-lasting tours. As an independent musician you can find many opportunities to perform and be paid. For example, if your city allows it then busking is a great way to get exposure for yourself and make some money in the process. Plus the exposure you get while busking could lead to other paid gigs. And of course, you have the various places that you can get paid to play. So for example let's look at a combination of performance options and how they may add up.
Play in a house band once a week ($50/gig) – $200/month
Play for 2 church services a week ($50 per service) – $400/month
Perform at restaurants three nights a week ($100/gig) – $1200/month
Busk in a well trafficked area twice a week ($150/day) – $1200/month
Play at wedding receptions/ceremonies – from $100 to $5000 per gig depending on your demand
So right there you have a set of just performance options with some example frequencies and pay rates. Combined all together they come out to $3000 a month or $750 per week. While this may be enough in some places to live on, it may not be enough everywhere, but keep in mind these are just quick examples. Depending on your available options you may be able to perform more and make more per gig.
Of course, not everyone wants to worry about how steadily they can find gigs. If you're not looking to be worrying about finding enough gigs, then there are other performance options that offer steady pay. Cruise lines for example, will hire musicians on multi-month contracts to perform on their cruise ships. These jobs offer room and board on the ships plus a flat weekly pay rate. Of course, to get one of these gigs you have to be a very skilled musician. This is not an option for a beginner or even intermediate level musician.
Teach What You Know
While getting out and performing is a great way to increase your income as a musician, some musicians don't want to be performing all the time or don't have sufficient locations to perform at steadily enough. The economy is changing too and not for the better. I see too many bands now that were once packing out the local bars only to play to less than 100 people a night. People are just not getting out as much anymore because of financial reasons. So a great way to compensate for these problems is to add income from teaching. No matter what else is going on, a parent will find a way to pay for their child to play a sport they like or an instrument they like. Offering lessons on your chosen instrument is a great way to add more income each month. There's not really a standardized price as I have seen teachers offering lessons ranging from $10 for a half hour to $100 per hour, and these are just your regular musicians. The better-known musicians that offer lessons while on tour can charge much more. But let's take a few possible scenarios and look at how much teaching can help your financial flow.
Teach 10 students a week for $15 per 30 minute lesson – $30/hour creating $600/month
Teach 10 students a week for $25 per 30 minute lesson – $50/hour creating $1000/month
Teach 10 students a week for $40 per hour long lesson – $40/hour creating $1200/month
Teach 10 students a week for $70 per hour long lesson – $70/hour creating $2800/month
Now you can see that you can make a decent amount of money from lessons. Of course depending on where you teach and how highly recommended you become will affect how much you can successfully charge per lesson. The great thing nowadays is that you don't have to just teach locally where your student can sit right in front of you. Online services like TheZoen or Google+ Hangouts create opportunities for teachers to offer their lessons online via webcam. This means you don't have to rent out a studio space or be limited to your local music store's hours. If you can get enough active students and charge a good rate for your lessons, you can make a decent living just from your teaching efforts.
Merchandising!
When most musicians think of merchandising they think first of band shirts, albums, stickers, and the like. But that's not the only merchandising options available to musicians. If you tend to perform a lot to make money, then those different merchandise options will be a better choice for you. However, for the musicians who make a decent bit of money from teaching, you have other viable merchandise options to create and sell. If you teach a lot of beginner students for example, then create your own beginner's guide book and sell it to your students and online. Have video equipment and know about video editing and production? Why not make your own short mini-lesson videos people can purchase for very cheap? Create an hour-long "Guitar Basics" video and sell it for $0.99 a download. Sell a "Sing Like The Stars" type multi-video series for $29.95. There are a lot of different things you can do based around your skill set. You just have to look for the opportunities.
Merchandising, merchandising, where the real money from the movie is made. — Yogurt the Plain
Pooling It All Together
While this is not a comprehensive list of ways to make money as a musician, these are the more recognized ways. In the end, if you don't look at it as a single job but more like a set of smaller streams combining to form a river then you'll see how much everything can add up. There are plenty of musicians out there making full-time income from just being who they are: musicians. They found ways to combine different streams and build their income. It's your turn to do the same.