Shake Your Poster Maker! – Designing Gig Posters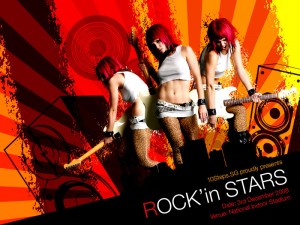 So you finally got the gig you have been begging for. So what can you do to make sure it is more than just your friends and family that come to it? Well making some posters would be a good start. Some of us though, are not designers. What can you do to make an effective show/tour poster whether you are a designer or not? Well to start with you can learn some basics of digital and print design.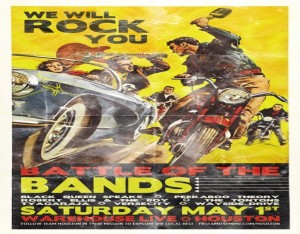 Color Formats
There are four color formats you need to work within: RGB, CMYK, Black & White, and Grayscale. First consider how you will be printing your materials. Some places such as newspapers only print in Black & White, so sending them a color logo for them to convert may result in a bad looking logo print. However, you can also use Grayscale when it comes to most Black & White print options, since Grayscale allow for shading. Regardless you want to do any color conversions yourself to ensure that you get a quality result. So if you are converting your color design down to shades of black then use Grayscale unless you are specifically told you can only use Black & White.
When it comes to color options, you have two main choices: RGB and CMYK. These two formats have very different uses. RGB stands for Red, Green, and Blue, and it is intended for use with electronic screens due to the way pixels present color. CMYK stands for Cyan, Magenta, Yellow, and Key (black). This is the color format used in printing. So when designing your poster make sure you select the right color profile for each medium. I have never had an issue with converting between the color profiles aside from some minor variance in color, but making sure you convert beforehand gives you the option to adjust as needed.
If you are concerned about converting between the two color profiles, then check out a Pantone Color Chart. Keeping your color selections restricted to those available on one of these charts allows you to quickly fix any changes when you convert between the profiles.
Developing A Color Palette
Different colors create different psychological reactions as well as have different meanings in different cultures and countries, so picking your colors is a crucial aspect. Colors regarded as "cool" tend to have a calming effect, where as "warm" colors have an optimistic excitable effect. Some of these colors are also "neutral" colors that fit well as background or text colors. Use of neutral colors can also increase focus on the primary colors.
Cool Colors
Warm Colors
Neutral Colors

Blue
Green
White
Turquoise
Silver
Gray

Red
Yellow
Pink
Orange
Gold
Brown
Black

Black
White
Gray
Ivory
Brown
Beige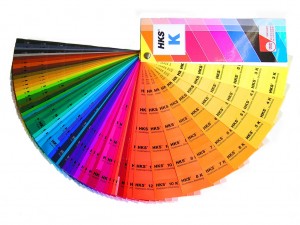 Imagery
Depending on the look you are going for, you may or may not choose to use any images. Not using images is fine as long as you present your text well, but for most designs a background will be necessary at the least. Backgrounds and your foreground images are useful as long as they support the overall design. Anything that doesn't needs to be changed or removed. When creating a poster, you will almost always start with the background since everything else will be layered on top of it. As it is the underlying support for the rest of the design, picking a good color palette for it is crucial. Beyond the background, you can choose to use your logo or images of your band.
The typography of the poster is regarded as being separate from imagery by many, but I feel the text is just as much a part of the imagery of the design as anything else. After all, depending on what font you use, the text color, orientation or shape, and so on, you create a distinct image through the visual design of the text. Choosing a color palette at the beginning will allow you to already know what color to use, so then you can focus on the remaining visual aspects of the text.
Royalty Free Stock Images: http://www.sxc.hu/
Contrast
The central idea of contrast is to avoid using elements in your design that are similar. If you want elements to fit together, then make them the same rather than similar. Use the same font, color, size, shape, etc…. For contrast though, make elements very different. In the end, contrast can be the most important visual aspect of the design and is useful in creating "spotlights" on certain elements of the design.
Dimensions
This is important for posters that you intend to print rather than post online. There are numerous paper sizes out there, and depending on the print shop is what options you will have. The typical paper size is 8.5″ by 11″, but many posters are designed in the size of 11″ by 17″. Sorry guys, but size does matter! At least, when you want to print that is. If you want to print in 11″ by 17″ then make sure you design for 11″ by 17″. This will insure the best results. Another factor that you will need to ask your print shop about is whether or not they can do full bleed prints. Standard printers leave a small border area around the edge of the paper, but full bleed printers can print edge to edge. If your print shop does not offer full bleed, then keep that in mind and create your design with the border in mind.
Designing Your Poster – Online Or On Your Computer
In the end, the purpose of your design is communication of specific information. Namely the information of when your gig is. Any elements that hinder the delivery of that message should be fixed or removed. Any aspects of what the final look should be kept in consideration during each stage of the design creation. Beyond that, you just have to get busy with the actual creation of the poster. For this part, you need to take stock of what tools you already have and how involved you want the design process to be. If you want to crank out a quick and easy poster, then an online poster maker is the way to go. If you want full control over every aspect, then you will need software on your own computer to create with or hire a designer to handle it.
Online Tools
Software For Your Computer
Additional Resources:
The Color Wheel and Color Theory
50 Amazing Gig Posters Sure to Inspire
25 Gig Posters that Inspire
60 Concert Posters From Ten Amazing Artists
35 Typographic Band Posters
35 Photoshop Tutorials for Designing Your Own Posters