Tool Spotlight: Tourch for iPhone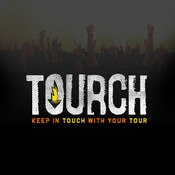 With the widespread availability and declining prices of smart phones, there are few excuses to not own one. As an independent artist, having access to email and web on the go is a great boon. With the wide variety of apps available, you can increase the functionality of your smart phone to be an even greater tool.
Tourch is one app that any touring artist should consider. As the iTunes description states, "Tourch is a mobile application designed to make the musicians touring life easier when it comes to handling merchandise, touring etc." You can track your merchandise inventory and sales at each performance. So instead of looking at your stockpile and thinking it's a little low, you can see that you need more Small and Medium shirts because they are your best sellers.
Add to this the ability to keep notes about each gig regarding load-in/load-out info, how well the show went, and so on. You can also take and include photos from each event such as how full the venue looked or a receipt for gas. Obviously you can do this with other apps such as Evernote, but maybe the all-in-one design of Tourch is the selling point. Plus the inventory/merchandise element would be more difficult to handle in anything other than a spreadsheet. Added bonus: you can export your data from Tourch out to a spreadsheet for use elsewhere.
Tourch costs $4.99 on the iTunes store as of this writing so it is not a major investment should you not find it useful.